| | |
| --- | --- |
| | Online help |
Home
>
Opening screen
> Ezine information
---
Pull information into your mailbox
The Ezines screen gets interesting information into your mailbox. (Until the menu has been retrieved from the web, this screen shows that it is getting a list of articles.)
Explore help: click on picture!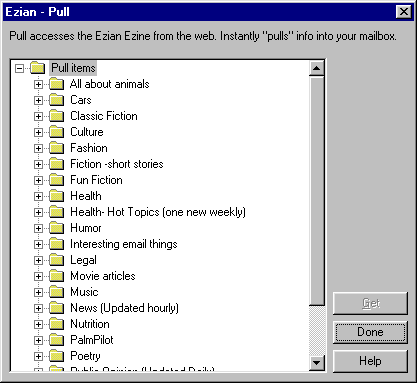 Most significant is that these articles are brought in only when you request them. You are not put on a mailing list, nor is your email address provided to anyone else. You are in control and get info only when you want it.
This a dynamic feature and it pulls its information live from the web. The message "Getting information" appears briefly while it builds its menu.
The Ezines screen shows a variety of topics folders. Click on those folders to reveal individual articles. The Ezines menu is very dynamic. Some articles are updated daily, others weekly. Still others remain relatively static because of their timely informative content but are updated when information changes.
Showing the names of Articles
Click on any folder icon to reveal Ezine Articles.
An article is shown by a document icon.
Getting articles
Click on Get to retrieve any of these articles into your mailbox.