Lucid's History
A Heritage of Innovative Software Solutions
Lucid's heritage began in 1983 when Dallas, Texas entrepreneur, Sam Redman, had the concept of developing a spreadsheet for portable computers and Redman founded a developmental laboratory for that stated purpose. In his quest Redman engaged Michael Stanford and they began developing software for the first notebook computer, the Tandy Model 100. Next, Redman invited Stanford to join him as an owner and they incorporated as PCSG corporation (Portable Computer Support Group). Subsequently, the name was changed to Lucid Corporation. Eighteen products were developed for this computer system, including the first version of the award winning spreadsheet, Lucid® 3-D. Many of those software programs (as well as specialized technology such as breakthrough barcode reading routines) were licensed to Tandy corporation and sold throughout the Radio Shack chain. Other original developments were done for the Italian business equipment company, Olivetti, as well as numerous other US computer companies. Since then, Lucid built a name that is recognized worldwide for high-quality, innovative software solutions. PC Magazine may have put it best when writing about one of our software products:
"a technical tour de force in an era that seems to have forgotten how to write tight code"
In 1985, Phil Mayes joined Redman and Stanford as Lucid Corporation's principle scientist and through the efforts of Mayes' development, Lucid moved into the DOS software market first developing Lightning™, the first commercial disk cache for the IBM PC. The product was recognized as "Best of 1986" by PC Magazine. Next, the company, after an exhaustive developmental effort, introduced Lucid® 3-D for IBM PC and compatible computers, and it won the "Oscar" of the software industry, the "PC Magazine Award for Technical Excellence", as the best application software of 1987. Over the years, Lucid developed many commercially successful products including a unique Microsoft development contract. This was for Lucid to develop for Microsoft Corporation a hardware product known as the Mach20 enhancement board. The completed product was produced and sold by Microsoft as an adjunct to early versions of Windows.
Lucid is very proud of its many customers, none more so than Sharp and Casio. Development efforts for both of these major corporations, starting in 1988, have been very complex, requiring assembly-level programming in their proprietary operating systems. These customers, were very concerned about quality and on-time delivery. Lucid exceeded all of their expectations.
Our spreadsheet, Lucid® 3-D, was built into four models of the Casio B.O.S.S. These machines are sold worldwide, prominently displaying the Lucid® 3-D logo. Additionally, Sharp sold several versions of Lucid® 3-D on IC cards for the Sharp Wizard.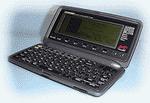 In 1989 Lucid Corporation was sold to the international diversified giant, Sampoerna Company, headquartered in Indonesia and continued to develop products in a very broad range of software technologies. Lucid always aspired to be the very best!

---
Lucid® Technologies, Inc.