| | |
| --- | --- |
| | Online help |
---
Editing an existing email account

After starting your first account, you can access this screen by clicking the Prefs button on the opening screen, then choosing Edit from the Email Accounts panel.
Explore help: click on picture!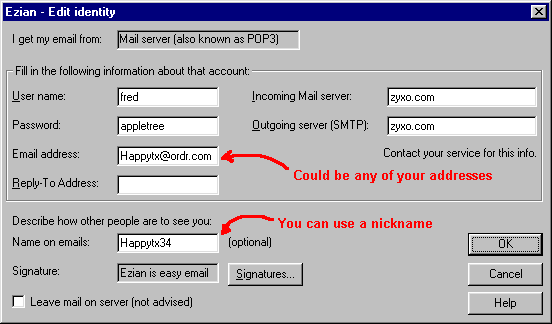 User name: When you got your mail account, you were given a user or login name. It may be one you chose or one which was given to you. If you don't know this, just contact your ISP or the person at your company or organization where you got your account.
Incoming Server (POP3): This is a name similar to zyxo.com or evmg.com. You must get this exact wording from your ISP or wherever you got your email account. The server name is often simple, but sometimes it is more complex, like shell21.best.com, so don't try to guess from your ISP name. Ask to be sure.
OutGoing Server (SMTP): Get this from your email service provider. Often it will be the same name as your Incoming Server, but other times it's totally different. Don't try to guess. Ask your provider for the exact wording to type in here.
Password: This is the password you were given by your email service provider. It may be one you chose or perhaps one they assigned you. It is the password necessary to check your mail for that account. Ask them if you don't know it exactly.
Email address: This is your identity. It can be any of your email addresses. It could be the email address associated with this mail server, or any other that you have. Just make sure it is a real address, or people will have mail returned when they try to email you.
Your "Email address" is how you are known. Whatever you put here will appear to others as your id. It does not need to be the address given to you by the service you are using.
When you are adding friends' names to the address book you will be able to tag that address book name to this id or mail address.
Reply to Address: Fill this in if your email address is not as shown on the screen. This is because most times email address is a combination of the login name and the incoming mail server, but other times not. This is for those other cases.
Full Name: This can be left blank, but whatever you put here shows on your outgoing emails. This name coupled with your Mail address is what makes up your identity.
Leave Mail on server - not advised - it's best not to check this because you will want your mail to be deleted from your server when Ezian picks it up.
Signature: A signature is text that goes on the bottom of emails you send. It can be serious, like your company information with a live web link, or it can be humorous, or just friendly. Click the Signature button to choose which one to use.

You can create your own customized signatures. Click the Signature button to Add, Edit and Delete signatures.