| | |
| --- | --- |
| | Online help |
---
Explore help: click on picture!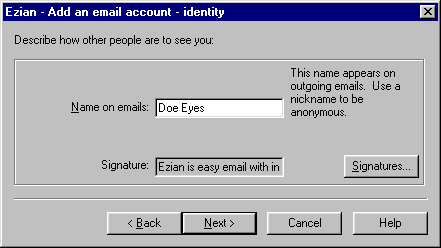 These are optional items:
Name on emails
The optional "Name on emails" is the name you wish to appear on outgoing mail. If you had entered Bobby Johnson as your Name on emails, it will show in the "From" section of any outgoing email like this:
From: bigtex47@zyxo.com <Bobby Johnson>
Don't put in your real name here if you don't want that name on your outgoing email. You might choose to use an alias name if you wish to remain anonymous when corresponding with people you met in chat rooms or on bulletin boards.
In addition, this "name for outgoing emails" entry will identify each email account you have in Ezian. The name you enter here shows on the Prefs > Email Accounts screen. This lets you tag your different accounts with a name you can recognize. Then, when you are selecting different Prefs panels to make changes, like on the Getting panel, or Chatting panel, or the Email Accounts panel for Editing info about an account, you can easily tell which account you are changing.
Signatures Button
Click to select a signature. A signature is a line which appears at the bottom of your outgoing emails. You can just leave this alone, and Ezian will use the default signature which says the email was sent from Ezian.
If you click the signature button, you can create a new signature or select a previously created one.